July 18-22, 2017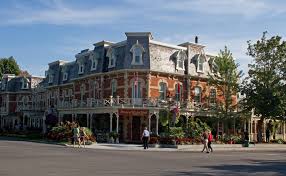 Trip Highlights
Our 17th annual Canadian Theatre Festival tour is, as always, a theatre lover's dream.   You have orchestra seats for 2 performances at the Shaw Festival in Niagara-on-the-Lake and 2 performances at the Stratford Festival. A day in Toronto is an added highlight. For over 20 years Carew Travel has partnered with the Theatre Development Fund in offering theatre-rich tours around the world.
Detailed Descriptions
Day 1. Tuesday July 18  (L/D)
Our tour director meets you at LaGuardia and oversees the program. Your nonstop Air Canada flight departs from LaGuardia at 10:25am. On arrival in Toronto at noon you travel directly, via private motor coach, to the storybook village of Niagara-on-the-Lake which continually is named one of the "Prettiest Towns in Canada."  On the lush banks of Lake Ontario, this gem is characterized by its cobblestone streets and Victorian architecture.  Enjoy lunch before you check into the lovely Queens Landing hotel. Located in the heart of town, this Georgian style hotel has a harbor front location and is filled with 21st century comforts including an indoor pool.   
Meet your fellow travelers at a welcome dinner before the evening performance at the Shaw Festival, the second largest repertory theatre company in North America. You have orchestra seats for Dracula, Bram Stoker's Gothic thriller, set in Victorian England at the Festival Theatre.  
Day 2. Wednesday July 19     (B/D)
This morning choose a Backstage Ghost Tour of the festival theatre or an optional excursion to Niagara Falls (please note:  the backstage tour is included; the falls tour is not included in the price of the trip).
You are free for lunch prior to a matinee performance of George Bernard Shaw's play, Saint Joan.  Shaw asks you to decide if this teenaged girl is the divinely-inspired savior of France, a dangerously clever charlatan or a pathetically deluded country girl?  This production is staged by Tim Carroll, the festival's new artistic director. 
Enjoy late afternoon shopping in town followed by a group dinner. 
Day 3, Thursday July 20   (B/L/D)
In the morning you check out of the hotel and drive by private motor coach to the lively town of Stratford. Along the way you tour a winery and enjoy lunch at the vineyard.  
After these activities you spend 2 nights at the Arden Park, a landmark in downtown Stratford. You dine as a group before the evening performance of Shakespeare's beloved comedy, Twelfth Night.   
Day 4. Friday, July 21    (B/D)
You'll marvel at the talent of world-class designers, scenic and wardrobe staff and prop makers  as you tour the Festival's Costume Warehouse.  You are free to explore this afternoon. Meet back for dinner and then on to an evening performance of a classic favorite musical, Guys and Dolls. Desperate for funds gambler Nathan Detroit offers high roller Sky Masterson what he thinks is a safe bet. Can Sky take any doll Nathan cares to name on a date to Havana, Cuba?  
Day 5. Saturday, July 22  (B/L)
After breakfast you check out of the hotel and travel to Toronto for lunch and an informative tour of this vibrant city. See Toronto's highlights from the harbor to Chinatown with your local guide. Enjoy your last stop aboard a harbor lunch cruise. You have a nonstop Air Canada flight at 7:45pm to New York's LaGuardia airport, arriving at 9:15pm. 
Notes & Pricing
This engaging experience includes:
Roundtrip Airfare from LaGuardia
Private coach transportation
Carew Travel tour director
2 nights Queen's Landing Niagara-on-the-Lake
2 nights Arden Park Stratford
Breakfast daily, 4 dinners; 3 lunches
2 Tickets for Shaw Festival 
2 tickets for Stratford Festival
Winery Tour
City Tour and Harbour Cruise
Tours and Admissions as per itinerary
PROGRAM PRICES:
Per person (double occupancy): $2350
(Based on a minimum of 15 people)
Land only per person: $2100
Single Supplement: $450
DEPOSIT:  $500 per person due IMMEDIATELY
BALANCE: Due prior to May 15
CANCELLATION TERMS:
$500.00 deposit due immediately. Deposit is non-refundable. Final payment due May 15 and is non- refundable after this date.
Insurance is highly recommended
RESPONSIBILITY:
Carew Travel Consultants Inc. act only as agents for the passenger with respect to transportation and hotels, and exercise every care possible. However we can assume no liability for injury, damage, loss, accident, delay, or irregularity  in connection with the services of any airplane, train, auto motor coach or other conveyance used in carrying out  these tours, or for acts of defaults of any company or person engaged in conveying the passengers or in carrying out the arrangements of the tour. We cannot accept responsibility for losses of additional expenses due to delay or changes in air or other causes beyond our control.  All such losses or expenses will have to be borne by the passenger as tour rates provide for arrangements only for the time stated. We reserve the right to make alterations to the itinerary as may be deemed necessary for carrying out the tour. The right is reserved to cancel any tour prior to departure in which case the entire payment will be refunded without further obligation on our parts. The  right is  reserved to decline, accept, or retain any person as a member of the tour. Baggage is at the owners risk entirely. It is understood that the air ticket when issued shall constitute the  sole contract between the passenger and the air company.
TRAVEL INSURANCE IS STRONGLY ADVISED!!
Information on Travel Insurance will be sent upon receipt of deposit or click on the link below.